Organic Morimoto Matcha Gyokujou - Tin 20 Gramm
The most delicate Oku Midori leaves are gently ground into fine powder. The shrubs are first shaded with black nets for about two to three weeks.
The Morimotos chose this plants for this elegant Matcha because of its deep taste, beautiful, light umami and full body, as well as its fine sweetness. Due to the long shading period, these properties are particularly attractive.
Compared to the
Morimoto Premium Matcha Minami Sayaka
, the Morimoto Matcha Gyokujou has even more body and more depth, and is more classic in this sense. The consistency is wonderfully fine, thanks to the high quality foliage used exclusively as the raw material for this Matcha.
---
Optionally for this Matcha, we offer a Matcha starter pack to you for a price of 19.99 Euro. The Matcha starter pack comprises of a bamboo brush with 80 bristles, a bamboo spoon for providing the dosage of Matcha powder and a bamboo brush holder in a colour of your choice. You can save almost 20% as compared to individual prices of the article. Please select the starter pack next to the product image above.
---

20 gram pouch
Eco control point DE-ÖKO-039
---
Information about the tea garden of Morimoto family
The bio-tea garden of the Morimoto family is on the most southern of the four main islands of Japan, not far from the city Miyazaki, in the prefecture of the same name.
The history of the Morimoto green tea began as the young couple founded a tiny company about forty years ago with a single, small tea garden. As the Morimotos developed into a perfect team over the years, the size of the company grew as did their experience in tea cultivation. Nowadays they manage twelve tea garden areas together and have their own production hall, which they operate almost exclusively together. During the harvest phase, tea plucker friends or also the children sometimes help in the processing.
One of many specific features of the Morimotos is that they cultivate a total of seven different tea-shrub types: Yabukita, Kanaya Midori, Oku Midori, Oku Yutaka, Minimi Sayaka, Sakimidori, and also the Assamica hybrid Benifuki. There are many different shrub types, and recently also another strain, which will possibly be the basis for the first tea of a quite a new type for a few years. This is because by mixing the leaves of different shrub types, different flavored grades of green tea are possible, which can finally be enjoyed..
Moreover, many tea shrub types also present a remarkable concept for the Morimotos: Beside their flavor-related features, different shrub types also have different qualities, that is, how they react to the climate and to pests like insects. If a shrub type is especially affected for any reason in one year, possibly by the infestation of a certain pest, then this does not signify directly the failure of the harvest in the other sections of the Morimotos' tea project where there are other tea shrubs. The many shrub types are also demonstrate Morimotos' preference for diversity.
The fact that the Morimotos think about such issues, is not unusual for Japanese "bio-farmers". In the end, they produce "Bio" not because they hope for higher profits , or better sales opportunities, but because they look at it as a valuable purpose to grow natural tea in surroundings characterised by ecological balance.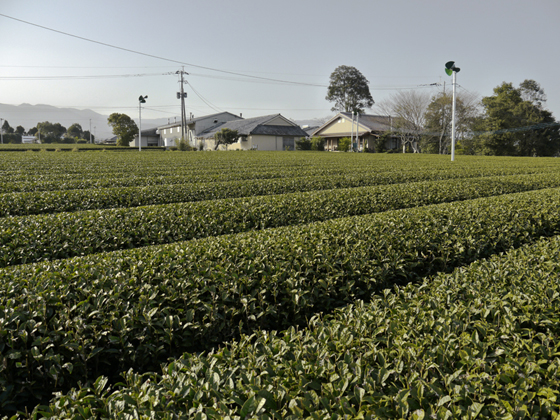 (Here, it is not real Matcha in the literal sense, because this product is produced not from overshadowed Tencha, but from Sencha. Still we have this product on offer, because it lends itself very well in the production of mixed drinks or as cooking Matcha)
---
1-2 gram / 300ml
maximum 80° C / 176° F
Eco control point: DE-ÖKO-007
---
Responsible food business operator:
Marimo GmbH, Muenchener Str. 45, 60329 Frankfurt am Main
How the Matcha subscriptions function with matchashop?
With every Matcha offered by us, you have the possibility of this subscription. This means that we will always send a fresh pack of Matcha regularly to you automatically, without you having to search again for a new order every time. With all Matcha variations offered, you can choose between an automatic payment every month, every two months or every three months. Not only will you always have fresh Matcha at home, you will also save up to 10% of the regular price given on the web page.
While paying for Matcha every month, you save 10% per delivery

While paying for Matcha every two months, you save 5% per delivery

While paying for Matcha every three months, you save 2% per delivery

While paying for Matcha without subscription, the regularly given price is applicable
 What's more, the subscription is completely without risk for you! You can cancel it at any time by mail with our contact form. You are bound neither to a minimum payment period nor a certain amount. The subscription is always dispatched on the same day of the month, on which your first order is received, so that there are always exactly one, two or three months in between.
For other questions about the Matcha subscription, do not hesitate to contact us. 
Unfortunately there are no review yet. Be the first who rate this product.
You must be logged in to submit a review. Login
This product is compatible with (for example):
Customers who bought this product bought also the following products: